DSX-W GEOSPREAD: spreading has never been so accurate!
Accurate spreading in irregular shaped fields
The DSX-W GEOSPREAD is equipped with two actuators on each dosing unit. One of these actuators controls the setting of the discharge point of the dosing cup onto the disc (letter setting), the other controls the application rate. The GEOSPREAD system makes it possible to adjust the letter setting individually for both discs electrically from the tractor cab. This means the working width can be easily adjusted quickly and accurately just by touching the ISOBUS terminal!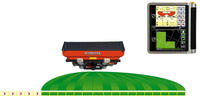 Decreasing the spreading width on the left hand side by 10m
Switching off the sections outwards
The Advantages:


RotaFlow spreading system


Fully automatic weighing system with unique reference sensor


The 2 metre sections (max. 24 sections) can be switched inside-out and outside-in to keep overlaps to the minimum


ISOBUS 11783 compatible for easy plug and play


Possible in combination with IsoMatch GEOCONTROL


Automatic start/stop with GPS on headlands possible